Alumni Leaders
Welcome! This resource portal is designed to provide information and support to the valued leaders of Purdue Alumni communities throughout the world.
Alumni communities have been an integral part of the Purdue Alumni Association since the first clubs were founded in 1890. As a volunteer alumni leader, you have demonstrated your pride, loyalty, and passion for Purdue. It's that enthusiasm and dedication to the Boilermaker spirit that will serve as the catalyst needed to reach the goal set by Purdue Alumni's Board of Directors — 90,000 members by 2020. The tools and resources we've compiled for you in this portal will help you to plan, promote, and execute a variety of events; track attendance and engagement; and integrate membership marketing into your communications.
News and Updates
Alternative Requirements for Club Recognition Program
Due to the extraordinary circumstances facing our nation and the world because of the Coronavirus, the Purdue Alumni Association understands that our alumni clubs are not able to host in-person events for the foreseeable future. As these have been the cornerstone of the Club Recognition Program, it is important for us to provide alternative opportunities for our alumni clubs to earn Gold, Silver, or Bronze status. Our goal with structuring this revision is to encourage continued engagement with our alumni and constituents in your geographical areas, while understanding our dedicated volunteer alumni leaders have varying levels of comfort with technology.
This revision will still use the same structure as our current Club Recognition Program requirements; however, there are alternative opportunities for earning credit for an event.
Alternative options for meeting event requirements
One Event Equals:
Option 1: One (1) Virtual Event, hosted in WebEx, Zoom, etc.
Option 2: Three (3) "Shares" of Purdue Alumni's social media posts to your club's social account (Facebook, Alumni Portal, etc.). MUST include a question to encourage alumni engagement/participation with your post.
Option 3: Five (5) "Shares" of Purdue Alumni's social media posts to your club's social account (Facebook, Alumni Portal, etc.)
Examples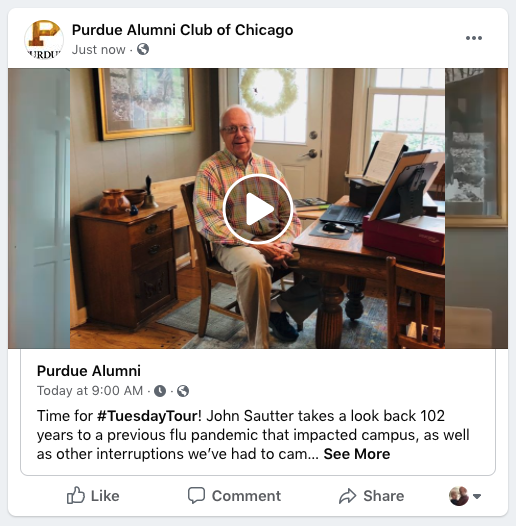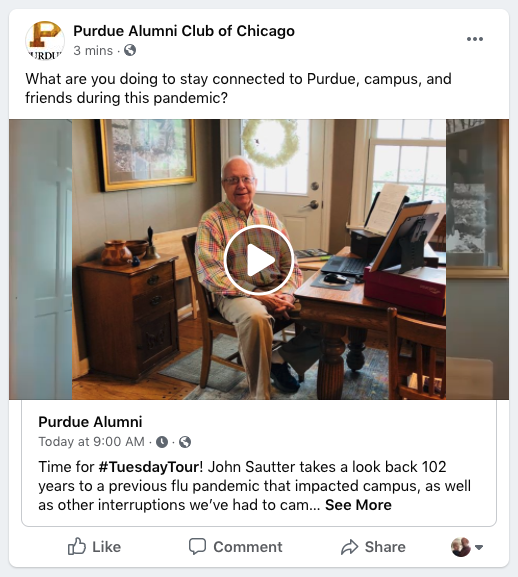 A maximum of three (3) events can be earned by any combination of these above options and will qualify as any Engagement type (Personal, Professional, Intellectual, Scholarship/Student Engagement, Service) needed by your club to earn Gold, Silver, or Bronze status.
This temporary revision will take effect retroactively (starting March 11, 2020) and carry through the end of the fiscal year (June 30, 2020). Reporting of events will still be done via the post-event information form, which has been modified to include these event options/alternatives listed above.
Share Your Ideas. Get Ideas.
Feel stuck? Need some inspiration? Check out our ongoing list of ideas, or share your ideas with other leaders about creative ways to engage your community during this time. Add your ideas to the bottom of the spreadsheet. View the spreadsheet.
Questions?
Finally, we're building a list of frequently asked questions regarding the temporary events requirements.
Coronavirus Update
As COVID-19 (coronavirus) continues to be a developing concern worldwide, Purdue University has implemented measures to limit exposure of campus community members to the virus. This includes suspension of all University-sponsored domestic and international air travel through May 2. Nonessential travel by other means (bus, van, car) is strongly discouraged. All campus events scheduled through May 2 have also been canceled. The University has launched a dedicated COVID-19 webpage that is updated frequently.
The Purdue Alumni Association will implement all measures enacted by the University which follows all Centers for Disease Control and Prevention and federal recommendations.
Understandably, the coronavirus is raising concerns about the safety of large gatherings held by our clubs and networks worldwide. The safety and comfort of the Purdue Alumni community remains our number one priority.
We appreciate all the time and energy you put into planning and executing your yearly events, and we know it is difficult to make a decision to postpone or cancel. The situation remains very fluid and changes daily. Therefore, each event must be considered on a case-by-case basis.
CAMPUS SPEAKERS — In light of the travel precautions issued by Purdue University, alumni leaders who have scheduled a campus speaker to appear at their events scheduled through May 2 should make alternative arrangements.
There may be options to have a speaker live stream or send a recorded message. Please contact your Purdue Alumni liaison to discuss these alternative options.
CLUB/NETWORK EVENTS — If you are holding events within the next month in locations where state or local health officials have declared a state of emergency, or in countries where the CDC has issued travel advisories at level 2 or above due to coronavirus, we strongly encourage you to cancel or postpone your event.
Even if you are not in a location where cases of coronavirus have been identified, you may decide to cancel or postpone out of an abundance of caution.
CANCELATION PROCEDURES — If you decide to cancel or postpone an event, please notify your Purdue Alumni staff liaison immediately so that we can manage any communications scheduled to promote the event.
The Purdue Alumni Association will issue a cancelation email alerting all recipients in your respective club/network.
For events where alumni leaders manage funds, the cancelation email will include the club/network event contact and advise attendees that they may request a refund. If no refund is requested, the registration fee will be applied to the club scholarship fund.
For events managed in Cvent, an email alerting registrants of a refund will be sent within five business days of notice of cancellation.
Canceled/postponed events will also be added to our master list.
SOCIAL MEDIA — Please post notification of event cancelations to your social media channels. Communications should be brief and to the point. Please see the linked file below which provides suggested messaging to use when communicating your event cancelation or postponement to external audiences.
Example messaging: Due to concerns surrounding the coronavirus and the safety of attendees, the [event name] scheduled for [event date] has been canceled. We are disappointed the event cannot take place at this time, but the health and safety of our community is our top priority.
Download Coronavirus Sample Messaging (docx)
FUTURE EVENT PLANNING — We understand that there may be financial implications to canceling or postponing events. Because the full impact of coronavirus is unknown, we encourage you to negotiate proactively when planning future events for the time being, such as avoiding any nonrefundable deposits.
CANCELATION POLICIES — A 30-day cancelation clause is common for many venues. Some venues are able to apply any deposit toward a rescheduled date. I encourage you to check with your venue to understand the implications of canceling. There may be a financial advantage to canceling earlier rather than later.
BOARD MEETINGS — There may be some cases, such as board meetings, where you can meet by phone or via WebEx rather than in person.
Thank you for all that you do to promote Purdue and share the Boilermaker spirit in your community. We are ever grateful for your service to the Purdue Alumni Association.