Purdue Alumni App FAQ
Bring the power of your Purdue Alumni Association to your phone with our app. View your membership card, alumni directory, event calendar, social media and news streams, savings programs, and much more. Just search for "Purdue Alumni" in your app store.
Below you'll find step-by-step instructions on how to download and log in to the app, along with answers to frequently asked questions about the app. Need additional help? E-mail us at purduealumni@purdue.edu.
Download the Purdue Alumni App
Step 1:
On your smart device, search for "Purdue Alumni" in the Apple store or Google Play store.  Click "Install," and then click "Open" to open the app.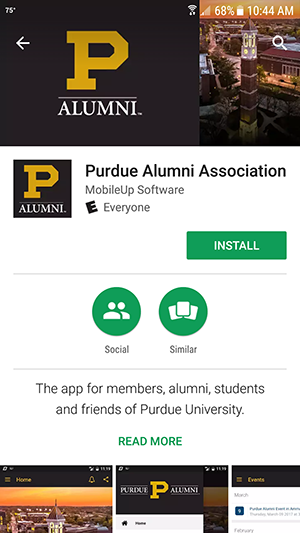 Step 2:
Be sure to click "Allow" when asked about access to location information for targeted notifications.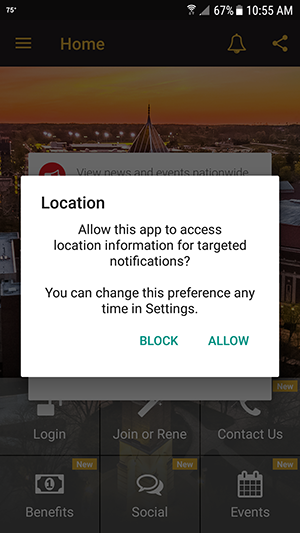 Step 3:
Also, be sure to click "Allow" when asked about Purdue Alumni accessing your device's location so you can receive the best, personalized experience with the app.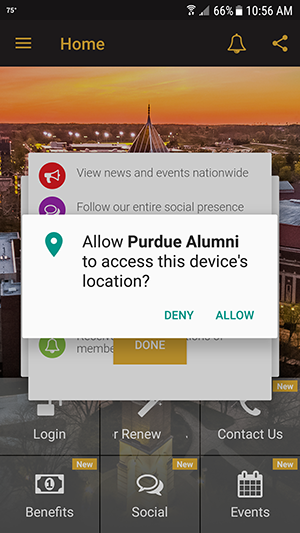 How to Register
Step 1:
In order for the app to recognize you and your correct membership information and for you to access all of the features, you'll need to register using the "Login" tile.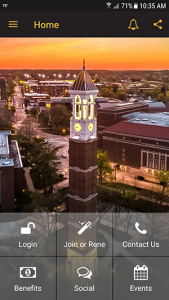 Step 2:
Enter your first and last name as they appear on your record with Purdue University as well as the grad year of your first degree from Purdue University, if applicable. Next, tap "Find Me."
PASE (Purdue Alumni Student Experience) members can also log in to the app with their Purdue University record information. However, Purdue students who are not PASE members, must use the link at the top of this login page to create an account to access the app's features.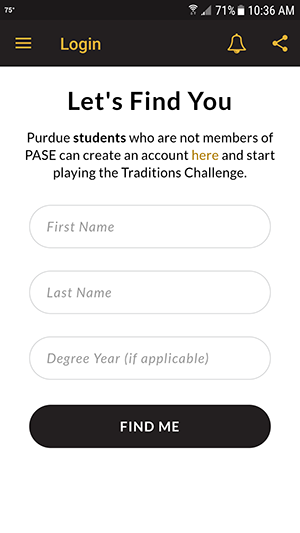 Step 3:
You should then see your name listed. Tap on your name.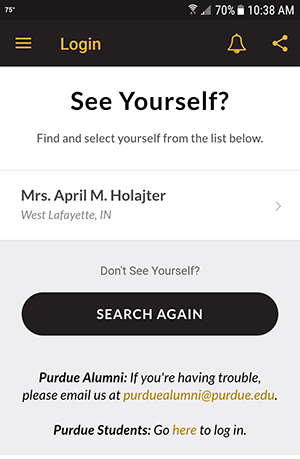 Step 4:
Finally, you will need to verify your account with your birth date. Once you have entered your birth date, click "Log in" to finish your registration.
You will see this success screen once you've been registered:
You're done! Enjoy using your Purdue Alumni app and be sure to check back often for updates about Purdue Alumni news, events, and more!
Be sure to have your notifications turned "ON" and OPT IN for "Location Services" to have the most customized experience with your new Purdue alumni app!
---
FAQ
Will I have to log in or register each time I use the app?
No. Once you log in the app will remember you each time it's opened.
Why do I have to enter my birth date?
Your birth date is an extra security measure. For example, there may be two John Smiths living in Chicago, IL who graduated in 2001. Adding the birth date verification makes sure these two don't get mixed up and confirms your identity.
I don't see my name listed.
First, make sure you're entering your name as it appears in your record with Purdue University. Nicknames may not work. Most likely, we have your full or birth name in our database.
I bought or upgraded my Purdue Alumni Association membership through the app, but it is not reflected on my Member Card.
It typically takes 24-48 hours for new memberships to process. If you still don't see your correct member status after two days, please contact us at purduealumni@purdue.edu or 800-414-1541.