Marketing and Advertising
Combining your expertise and our network, we deliver custom solutions to increase your business.
Depending on your goals, we can also help you build advantageous B2B relationships and access coveted Purdue Alumni–branded elements for your marketing collateral.
Last but not least, we provide you with advertising-related data. Clicks, opens, registrations, and more!
Advertising Opportunities
The Purdue Alumni Association has several advertising options to help your company reach its goals — each a cost-effective and proven way to reach loyal and successful Purdue alumni.
Advertising opportunities:
e-Newsletters
Event sponsorship
Purdue Alumnus magazine
Targeted email
Web advertising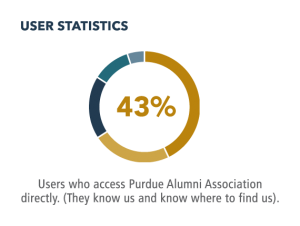 By partnering with the Purdue Alumni Association, you will be aligning your business with an innovative organization that brings the best of Purdue to alumni across Indiana, the nation, and the world.
Sponsorship Opportunities
Our business partners are an integral part of Purdue Alumni activities, events, and programming.
Opportunities include:
Affinity group events
Alumni club program
Alumni golf outings
Athletic events
Boilermaker Ball
Branded giveaways
On-campus events
Student interaction
View the Advertising & Sponsorship Booklet
If you have questions about advertising or event sponsorship opportunities, please contact:
Baylee Neff
Director, Business Partnerships
(765) 496-6556
baylee@purdue.edu