Greater Dayton
Welcome
This club is – to the best of our knowledge—the fourth club to call Dayton, Ohio its home. In the 1910's a group of Purdue alumni gathered; in 1919 they sent Purdue a resolution by airplane (piloted by the first Purdue graduate to land at Purdue) calling for the University to establish a School of Aviation Engineering at Purdue. In the 1960s, a group of alumni gathered together at the Barnsider Restaraunt; the proprietor was a big Purdue fan and has been recognized by Al Stewart and President Hovde. And again, in the 1970s or early 1980s a group of alumni formed a club that eventually died out.
The current club was established in the late 1987. In 1998, under the leadership of Phi Fretz, the club incorporated itself, rewrote its bylaws and applied to the IRS for recognition as a 501(c) 3 public charity. The club was granted that status in 1999 and today still operates under the same bylaws.
Over the years the club has been recognized as one of the best Purdue Alumni clubs in the country. Under the current Purdue Alumni Association's club recognition program we have won twelve straight Gold "P's. We offer a diverse variety of programs and hope that you will find something to your liking.
We invite you to surf our site. Look around. If you like what you see then come join us at an activity or event. If you want to contribute to our scholarship program, then see the instructions inside. If you want more information, then contact one of our officers.
Boiler Up!!!
Robert C. Forbes, Jr
President
Purdue Club of Greater Dayton
Back to School Picnic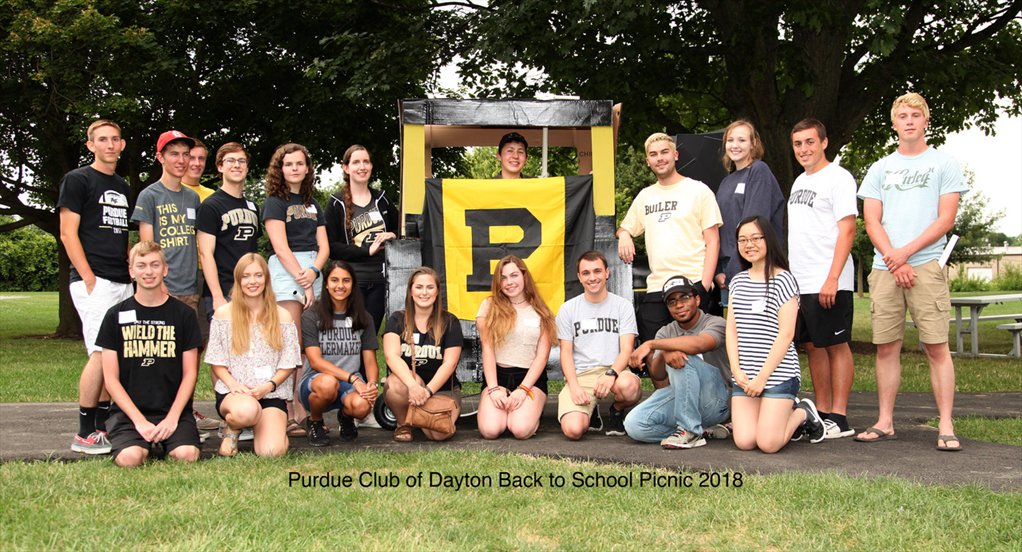 On July 28, we will be hosting our annual picnic for families and students before they head off to West Lafayette for the fall semester.  Come on out and join us - mingle with other alumni, talk to the new students, enjoy a Sunday evening meal.  All the details can be found at our picnic flyer.  You can either mail in your reservation or email our president Bob at (rofor2@earthlin.net) and then pay at the door.  Hope to see you there.
Your Purdue Club of Greater Dayton
Scholarship
Applications are due by March 1, 2021 and will be awarded on or before April 15, 2021, for the 2021–2022 academic year.
We hope to hear from you soon! Hail Purdue!
Events