September 2019 FSCL Newsletter
A Life of Influence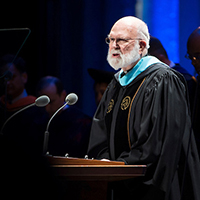 For more than two decades, Father Phil Bowers (MS EDU'86) served as a chapter adviser for Theta Chi at Purdue.
While he may have departed from campus, his extended flock includes hundreds of Theta Chis, former students, athletes, coaches, and Purdue colleagues. He has befriended them, counseled them in times of challenge, married them, baptized their children, and buried their parents. Far beyond his professional ministry or voluntary fraternal duties, Father Phil has led a life of influence based on relationships. READ MORE
Follow in Father Phil's footsteps. Take this brief survey to let us know how you want to be involved with Purdue.
From Cooperative to Fraternity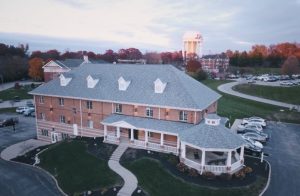 Fairway Cooperative, founded in 1957, has undergone a significant transition in recent years. For the past decade, alumni and collegiate members of the cooperative have investigated the creation of a national brand based on the ideals of providing a space for Christian men to come together in fellowship.
Fairway members hoped to enlarge, share, and spread the cooperative's traditions and practices to other university campuses so collegiate men could partake in an exceptional Christian brotherhood. After a few years of prayer and research, alumni discovered Beta Upsilon Chi fraternity (BYX), also known as Brothers under Christ — it was a perfect match of missions, ideals, attitudes, and beliefs.
In the spring of 2017, Fairway joined forces with BYX to form the Alpha Chi chapter at Purdue. This new chapter of BYX is affiliated with the North American Interfraternity Conference and joined the University's Interfraternity Council at the beginning of the fall 2019 semester.
Although BYX has changed councils, members are eager to preserve the traditions and history of Fairway Cooperative. Students will continue to contribute to household duties, develop leadership skills and friendships, experience personal growth, and build a community.
The Office of Fraternity, Sorority, and Cooperative Life and the Office of the Dean of Students are excited to see the Alpha Chi chapter of BYX grow and continue to succeed in its endeavors.
Did You Know?
The Interfraternity Council (IFC) was recognized by the North American Interfraternity Conference (NIC) with the Council Award of Distinction.  This is the third time since 2011 that Purdue's IFC has received national honors from the NIC.
The Omega chapter of Pi Kappa Phi received a Chapter Award of Distinction from NIC in 2019. The chapter was one of five nationally to receive this recognition.
Jim Russell (M'75) received the NIC Gold Medal, which recognizes lifelong service to the interfraternal community. It is the highest honor NIC bestows. Russell recently retired after 17 years as the executive director of Delta Tau Delta fraternity. He currently serves on the Alumni Advisory Committee for Purdue's Fraternity, Sorority, and Cooperative Life Office.
The Panhellenic Association received the Michael A. McRee Change Making Experience Award and Sutherland Award during the 2019 Association of Fraternal Leadership and Values Central Leadership Conference.  These awards are among the highest level of council achievement for Panhellenic and governing councils.  
Spring 2019 Semester Report Highlights
Each fall and spring semester, the Office of Fraternity, Sorority, and Cooperative Life (FSCL) compiles a report of service hours worked, philanthropy dollars donated, GPA, and graduation rates for the entire community — our students have never been stronger.
The FSCL semester GPA is 3.12, which surpasses the undergraduate GPA for the 11th consecutive semester.
FSCL members contributed $823,752 to philanthropic organizations and 98,277 community service hours during the 2018–2019 academic year.
FSCL four-, five-, and six-year graduation rates continue to surpass the Purdue University average.
Chapter-specific graduation and retention rates for the fall 2014 cohort are available for the first time!
Top Chapter/House GPA for each council:

IFC:  Sigma Phi Epsilon — 3.24
MGC:  Delta Pi Rho Fraternity, Inc. — 3.11
NPHC:  Alpha Phi Alpha Fraternity, Inc. — 3.04
PCC:  Twin Pines — 3.47
PHA:  Delta Gamma — 3.43
Boilermaker Station Welcome Center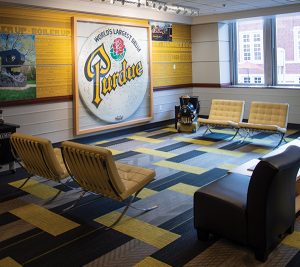 Purdue Alumni's Boilermaker Station and the Purdue University Welcome Center have combined and relocated into one all-encompassing welcome center in Stewart Center, room 102. The new space welcomes all Boilermakers and guests. The Purdue Alumni Association and the Office of Admissions are collaborating to staff the new center.
Boilermaker Station Welcome Center is open from 8:00 a.m. to 5:00 p.m. Monday through Friday and home football game Saturdays.
Contact Us

PURDUE FRATERNITY, SORORITY, AND COOPERATIVE LIFE
Brandon Cutler
Associate Dean of Students
Director of Fraternity, Sorority, and Cooperative Life
Purdue University
765-494-4880
bcutler@purdue.edu
Contact Brandon with questions about the community or your chapter/house.
ALUMNI RELATIONS FOR FRATERNITIES, SORORITIES, AND COOPERATIVES
Jimmy Cox
Director of Student-Alumni Programs
Purdue Alumni Association
765-496-6549
jimmycox@purdue.edu
Contact Jimmy about alumni involvement or serving as a chapter adviser.