Spring 2020 FSCL Newsletter
Alumna Organizes Visit to the Indianapolis International Airport
As a freshman, Mandy Royston (HHS'04) was immediately drawn to the sorority experience because of the networking and philanthropic opportunities. After graduation, Royston's involvement with Pi Beta Phi sorority helped her job search.
"It showed my abilities to multitask by being involved in my community while taking a full class schedule and having a part-time job," says Royston. "Plus, I made a lot of really great friends who are still an important part of my life today."
In 2019, these friendships helped her reconnect with Purdue.
Last spring, a friend (and Alpha Chi Omega member) asked Royston to serve on a women's leadership panel, hosted by the Panhellenic Association. Fast forward a year, and Royston has continued her involvement. In September, she participated in a mock career fair for students. This February, she hosted a group of students at Indianapolis International Airport, where she is a retail operations coordinator.
In total, 20 students were selected to participate. The day-long visit included opportunities to hear from airport employees, tour the facilities, and enjoy a networking lunch. Feedback from the students indicated that the event exceeded expectations:
"The overall event was great! Panelists were very informative."
"It was a brilliant day and so well organized! Please, can we have more events like this!"
Alumni like Royston are the heart of our global community — and it all started with her sorority experience!
Cooperation is the Name of the Game
by Dennis Bales (LA'70)
After I was accepted to Purdue in 1966, I still had a huge obstacle: housing.
Dorms were too expensive for my family. But Kneale Cooperative House provided an affordable alternative — and saved me two hours of commuting daily. When I was voted in as a pledge while still in high school, I was elated.
The summer before my freshman year, I learned I could lower my housing bill even more. Kneale members were moving into a larger house that needed repairs — namely some paint and a thorough cleaning. Those of us who came down early to work could earn an extra housing discount. I jumped at the chance and had a great week working with some fellow pledges and upper-class brothers — plus I got an early start on exploring Purdue's campus.
Cooperation was the name of the game in Purdue's cooperative houses. Members had weekly rotating chores to keep the house spotless and running smoothly. We took pride in our clean and tidy home. Life skills were abundant at Kneale and included loyalty, respect, organization, structure, kitchen and home maintenance, mentoring, academics, formal etiquette, and social relations — just to name a few.
Back then, Purdue co-ops were like fraternities and sororities in many ways but without national affiliations. We had to go through a pledgeship. We elected house officers and held one another accountable. We were proud to wear our house pins and show our loyalty to Kneale House as we sang its song.
Academically, we had enforced quiet study hours from 7:00–9:00 p.m. Sunday through Thursday. We learned to respect that all of us needed to use those hours productively. After all, we were in GPA competition with the 17 other co-op houses.
Socially, Kneale had trade dinners and dances with women's houses plus intramural competitions with men's houses. The Student Cooperative Association (SCA) hosted dances, picnics, and other events for co-op members. SCA also hosted campus-wide dances with well-known bands. As SCA social chairman my junior year, I was proud of our events.
My biggest regret now is that our beloved Kneale House no longer exists. Nevertheless, I am hopeful there will again be a co-op alumni tent outside Ross-Ade Stadium. Perhaps someday down the road, the current co-op houses might welcome some of us "houseless" co-op alumni for visits.
Dennis Bales (LA'70)
Purdue Honors Program — Spanish and Speech Education
Coauthor — The Million Dollar Code, recently released on Amazon
Retired Teacher — Chicago Public Schools and City Colleges, 2010
Purdue Alumni Portal: A New Resource for Students & Alumni
There are so many social media platforms out there. Many of them offer the same set up; millions of people to connect, countless negative comments, and too much content to know where to begin.
Think of the Purdue Alumni portal as LinkedIn — but exclusively for Purdue alumni and students. That means connecting with people you have more things in common with. (And you don't have to worry about sifting through negative comments and cat photos!) Everyone on this platform is there to network and mentor. You can visit the site and set up your profile today!
The easiest way to set up a profile is to connect the platform with your LinkedIn account if you have one. When you set up a profile, you'll be asked if you want to serve as a mentee, mentor, or both.
To date, there are more than 4,000 users in the system with more than 100 new accounts activated weekly.
Recently, a student sent us a message about a positive experience she had connecting with a doctor who talked to her about a future in medicine. You can be part of this community and build your network with one click. Join today!
Check out these tips on how to get started.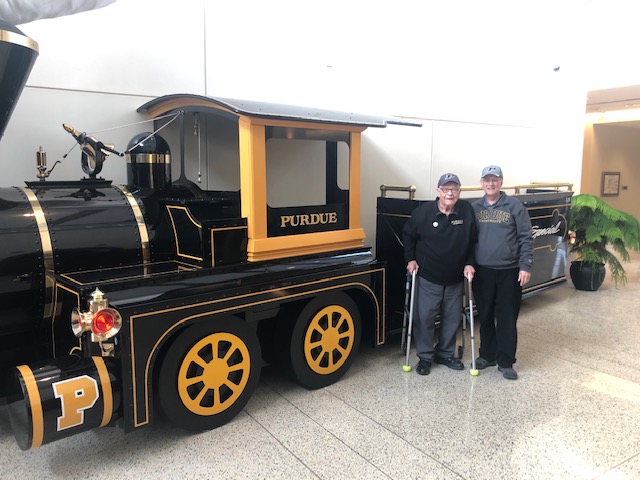 70 Years Strong
In the spring of 1950, Henry "Hank" Keller (ME'50) was living with his fraternity brothers in Tau Kappa Epsilon, studying engineering, and getting ready to graduate. Just a few years earlier, he had returned from serving his country in World War II.
In January 2020, he shared his story with us when he returned to campus with his children to see how things had changed.
The day started with a tour of the Dauch Alumni Center and viewing old copies of the Debris yearbook from Keller's time on campus. Even 70 years later, Keller has strong memories of time spent with his brothers. He recalled conducting business in chapter meetings, studying together, social events, and the pranks everyone played on each other.
"The fraternity was a place where I could make friends at Purdue and beyond," Keller shared.
The day continued with a tour of the Class of 1950 Lecture Hall, where he fondly remembered being at the building dedication in 1990. He remembered going to class and having less than $2 for lunch each day. His choice of food? An Indiana pork tenderloin. It's not on the menu anymore, but Hank was still happy to experience what the dining halls were like today.
Want to make a campus visit?
Our office is happy to connect with you. Please contact us to learn more.
Watch highlights from Hank's visit.
Fall 2019 Semester Report Highlights
Each fall and spring semester, the Fraternity, Sorority, and Cooperative Life office publishes a report that covers service hours worked, philanthropy dollars donated, GPA, and graduation rates for the entire community. Below are some snapshots of this past spring semester. Our community has never been stronger.
The all fraternity, sorority, and cooperative semester GPA is a 3.13, which surpasses the undergraduate GPA for the 12th consecutive semester
The fraternity, sorority, and cooperative community contributed $577,878 to philanthropic organizations and served 43,868 community service hours
Top chapter/house GPA for each council:

IFC:  Sigma Phi Epsilon — 3.55
MGC:  Delta Phi Lambda — 3.27
NPHC:  Alpha Kappa Alpha Sorority — 3.10
PCC:  Marwood — 3.41
PHA:  Kappa Alpha Theta — 3.42
View the entire report (PDF)
We Need You
Want to find a way to give back? We're always on the lookout for new volunteers, and there are plenty of opportunities to work with students and alumni. Learn more, and let us know if you're interested!
Questions
If you have questions about the community or your chapter/house, please contact Brandon Cutler at bcutler@purdue.edu or 765-494-4880.
If you have questions about alumni involvement or serving as a chapter adviser, please contact Jimmy Cox at jimmycox@purdue.edu or 765-496-6549.