Member Benefit: Active&Fit Direct™ Program
Purdue Alumni members can stay active at home, a gym, or anywhere for just $25/month with the Active&Fit Direct program. Plus, there are no long-term contracts.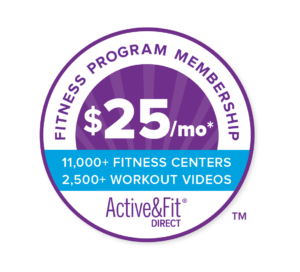 Find a fitness center or stay active at home!
With the Active&Fit Direct program, you'll have access to:
2,500+ digital workout videos so you can work out at home or on-the-go
11,000+ fitness centers and studios, with the ability to change anytime
Unlimited lifestyle coaching in areas such as fitness, nutrition, stress, and sleep
Activity tracking with 250+ wearable trackers and apps
Workout classes on YouTube and Facebook — available anytime and designed for all levels
200 free digital workout videos — even before you enroll
Participants must be 18 years of age, be located in the United States, and have a valid email address. Participants must pay by credit card and are charged in advance on a monthly basis using a recurring payment subscription. If a participant chooses to cancel, they must provide a 30-day notice of cancellation. All payments are subject to tax, if applicable, based on the participant's location. For more information, please visit the Active&Fit Direct website Terms and Conditions section.
Plus applicable taxes. Enrollment fee waived 1/1/2021–2/28/2021.
The Active&Fit Direct program is provided by American Specialty Health Fitness Inc., a subsidiary of American Specialty Health (ASH). Active&Fit Direct and the Active&FitDirect logo are trademarks of ASH and used with permission herein. Not all services may be available in all areas, and the program may be changed (including monthly and enrollment fees and/or the introductory period) or discontinued at any time. Other names or logos may be trademarks of their respective owners.