Career Resources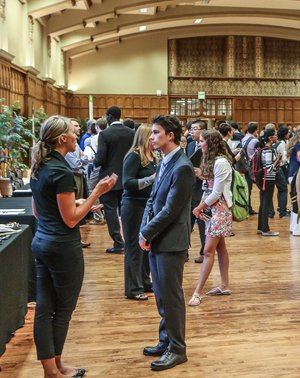 Whether you want to jump-start your career or take it to the next level, the Purdue Alumni Association is here to help.
PROFESSIONAL members have access to great savings on Purdue courses and degree programs, research databases, job search tools, and career development tools.
CAREER MAX members receive all the benefits of PROFESSIONAL membership plus CliftonStrengths 34, 1:1 career counseling, and more.
Explore all the options, select the one that is right for you, and join here.
Below is a list of services and resources available from Purdue.
Purdue Center for Career Opportunities
Access to the Center for Career Opportunities myCCO system that provides alumni with a mechanism to have their resumes forwarded to prospective employers as well as campus interview eligibility.
A robust delivery of resources and services through the CCO website including the CCO Handbook.
In-person assistance by CCO consultants during student service non-peak times. Schedule an appointment now!
Full access to all campus workshops and clinics relating to job search strategies and tool development (500+ sessions per year).
Access to all campus job fair events hosted or cohosted by the CCO.
Alumni are also invited to access the JobNow program, provided by Brainfuse, that provides alumni with live online resume, interview, and job coaching to supplement CCO programming and assistance. You can log in to your myCCO account to access the JobNow program.
Search for internships or jobs.
Online Networking Events
Using an online communication and constituent engagement platform, alumni association members can log in to an online event and are connected automatically with another user for a one-on-one timed chat. After each chat, the software automatically connects people with their next chat. After the event, every participant has a dashboard that lists all of their connections from the event. You can watch this short video to learn more.
Career Fairs
Check out upcoming career fairs and other events coordinated through Purdue CCO.
Find a Local Club
PLUS members can connect with other Purdue alumni across the country/world through Purdue Alumni Clubs, Affinity Networks and International Networks. Through the efforts of club volunteers, Boilermaker pride is brought to those that do not have the ability to return to campus regularly. The clubs and networks promote Purdue through their recruitment of future Boilermakers and their community service projects.
Purdue Schools and Colleges
Online Writing Lab
Graduate School
Learn more about Graduate School opportunities at Purdue University. The Graduate School oversees graduate education that includes more than 80 graduate programs at the West Lafayette campus and nearly 30 programs at four regional campuses across the state of Indiana.