Black Alumni Membership Offer
Sale!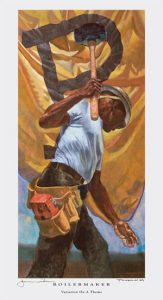 In celebration of Black History Month and all that we've accomplished, the Purdue Alumni Association and the Purdue Black Alumni Organization (PBAO) are offering discounted membership through February 28.
To commemorate our work and progress, we're offering a limited-run print* of a campus icon — the Boilermaker painting by world-renowned black artist Derek Fordjour.
Time and supplies are limited. Join the Purdue Alumni Association today!
Membership in the Purdue Alumni Association includes:
Alumni travel program
Global discount program
Membership in PBAO, local clubs, and other affinity networks
Subscription to the award-winning Purdue Alumnus magazine